Multi-core column-store parallelization under concurrent workload
Presented at the

DAMON Workshop (colocated with ACM SIGMOD)

, San Francisco
Additional Metadata

,

,

,

ACM

HP Labs, Palo Alto

M.M. Gawade (Mrunal)

,

M.L. Kersten (Martin)
ACM SIGMOD Record
Commit: Time Trails (P019)

,

LAD: Layered Astronomical Databases

,

The SciLens-II Infrastructure, Big Data at work

DAMON Workshop (colocated with ACM SIGMOD)

,

Organisation
Database Architectures



Gawade, M.M, Kersten, M.L, & Simitsis, A. (2016). Multi-core column-store parallelization under concurrent workload. In M.M Gawade & M.L Kersten (Eds.), ACM SIGMOD Record. ACM.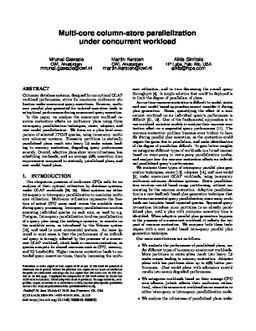 Additional Files
24716.pdf
Author Manuscript , 349kb